Salman Khan the brand ambassador of IIFA Charity Initiative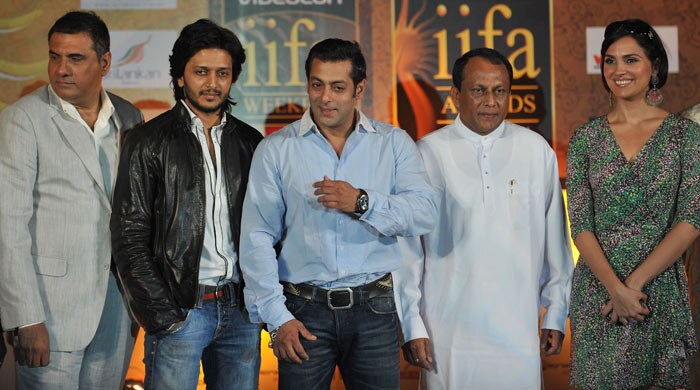 As testament to its mission of integration and building bridges between countries, IIFA (International Indian Film Academy) will spearhead a charity initiative in Sri Lanka as a part of the IIFA Weekend and Award celebrations in Colombo. Recognizing the magnitude of the recent conflict in Sri Lanka, the IIFA Charity Initiative, in conjunction with the Sri Lanka Cricket Board, Habitat for Humanity and UNICEF, aims to positively impact those afflicted in the country. Identifying with the aims of the initiative, Indian cinema star, Salman Khan has agreed to be the brand ambassador of the IIFA Charity Initiative.
After the success of IIFA in Macau, Lara Dutta, Riteish Deshmukh and Boman Irani will once again don their roles to play hosts for the Micromax IIFA Awards 2010.
Through the efforts of IIFA, the UNICEF and the Sri Lanka Cricket Board, contributions in lieu of financial resources are being made to the 'Cricket for Change' project wherein former child-soldiers are being rehabilitated. These child soldiers, who have borne the scars of war, are being educated, cricket-trained and will also get an opportunity to participate as volunteers. The charity cricket match between Indian celebrities and Sri Lankan cricketers is scheduled to take place on the 2nd day of the Videocon IIFA Weekend.
As a symbol of solidarity with the Sri Lankan people, IIFA in partnership with Habitat for Humanity will adopt and rebuild a village in for refugees, with the proceeds of the cricket match being donated to this cause.
IIFA Advisory Board member, Mr. Ramesh Sippy, said, 'On behalf of the IIFA Advisory Board, we are very pleased to bring the IIFA experience to our hospitable neighbour Sri Lanka. As a member of the film industry, I look forward to another luminous decade, as IIFA journeys forth, sharing the Indian cinematic movement, one country at a time.'
Speaking on his association with the IIFA Charity Initiative, Salman Khan said, 'I support IIFA's initiative that aims to give back to the Sri Lankan people, due to the recent hardships they have faced. I am happy to be an 'Ambassador of Change' and believe that it is crucial to make a difference and contribute to this worthy cause. IIFA has successfully built bridges between countries over the last decade, and I hope this initiative will do the same for Sri Lanka.'
Mr. Tony Senewiratne, National Director - Sri Lanka, Habitat for Humanity said, 'The invitation from IIFA to Habitat for Humanity - Sri Lanka is an exciting opportunity. This union will join our efforts to bring a significant change to the lives of many families. We plan to make a major difference by providing a community with a decent house and a better quality of life. This is indeed a generous and significant act by IIFA.'
Hon. Dep Minister of Economic Development, Sri Lanka- Lakshman Yapa Abeywardena said, 'With the dawn of the new era in our island, Sri Lanka which is renowned as the 'Pearl of the Indian Ocean', has great potential in expanding its vistas in Investment, Tourism, Agriculture and other sectors that will immensely contribute towards the rapid development drive initiated by the Government. IIFA will play a vital role in further strengthening the mutual cooperation of the two nations.'
Identifying Sri Lanka as an obvious choice to commence the second decade of IIFA, owing to its natural beauty and diversity of its culture and people, Sabbas Joseph, Director, Wizcraft said, 'IIFA is proud to be associated with the UNICEF and Habitat for Humanity as a mark of our support and hope for the people of Sri Lanka. IIFA will be adopting a village for refugees and have received nothing but warmth and enthusiasm from the Sri Lankan people and anticipate another successful IIFA.'